Celebrity dog Ethan visits seniors | Local News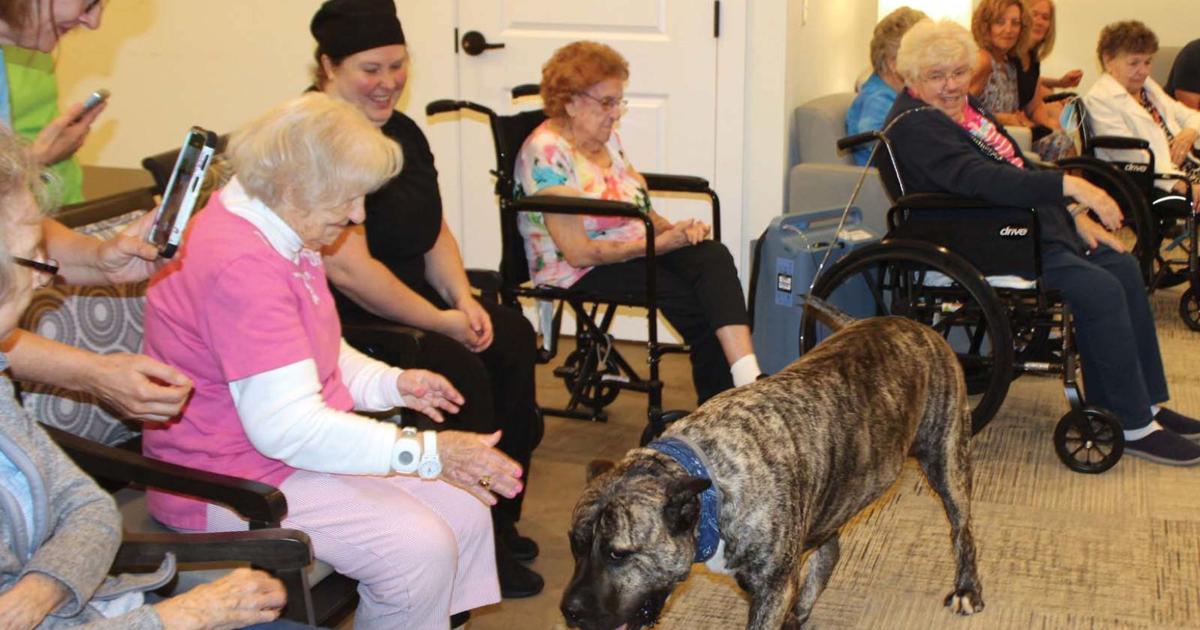 In 2021, a Presa Canario named Ethan was left in the parking lot at the Kentucky Humane Society in Louisville.
He was thin and clinging to life. Now, Ethan is about 130 pounds and visited Peridot Senior Living in Elizabethtown on Friday. Residents giggled and smiled when he walked into the room.
Ethan was very ill and had to learn how to walk again. He's also up for a hero dog award. Ethan was at the senior living facility to help encourage residents there in their health journey.
Ethan's owner Jeff Callaway said when the vet saw Ethan, he thought the dog was dead until he saw him take a breath and then worked hard to save his life. Ethan also had seizers after they brought him in.
Callaway works at the Humane Society.
"When I saw him, I knew he was my dog," he said, even knowing he wasn't expected to live. "He went from a dog that someone was abusing, neglecting and abandoned to a dog that's in the top three in a shelter dog competition in the country."
Ethan also is a spokes dog for Busch and is a celebrity in Louisville having attended Kentucky Derby parties and other city events.
Last summer Ethan started having seizers again and a neurologist said he has legions in his brain caused by the starvation and abuse," Callaway said, adding he hasn't had a seizure since that day. "He has a strong determination to live and loves people."
Sonja Vanderville, director of resident engagement at Peridot Senior Living, said she's a firm believer in animal-assisted therapy.
"Animals make you happy and encourage you," she said. "When you touch them it makes you feel better."
She got the idea when she invited Boone the Raccoon to come in his wheelchair and encourage the residents. Some who reside there have a hard time with their gate in walking, and she thought they could use the encouragement.
"They are often slow, fall a lot and don't want to do their exercises," she said. "That little raccoon cheered them up and showed them he could do it."
Vanderville followed Ethan's story online since the beginning of his struggle and thought he could be an example of overcoming obstacles to healing.
"See how happy it makes them and how engaged they are?" she said.
She wants to remind residents later when they tell her walking or therapy hurts and they want to give up about Ethan and how he struggled and is better now.
She wants to keep finding animals like that to come in to encourage the residents with their stories.
"Animals make a big difference, especially in seniors who are here and may not have a lot of visitors during the day," she said. "The smiles on their faces when they see the animals tell the story."